Spider Prank Scare Box
Regular price
$19.95
Sale price
$14.95
Save 25%
/
---
If there's ever a lone box sitting on a table that has a nice little knob to open it, chances are everyone who sees it is curious as to what's inside! And that's just what you're hoping for with this hilarious prank box. As soon as someone pulls the tab towards them to open, the spider will jump out at their finger and scare the crap out of them!
Prank your friends, parents, cousins.., why not? 😂🤣🤪
Make them jump with fright when they open this clever box. Slide the cover forward and out jumps a rubbery realistic black spider. Yikes!
This item is a Handmade Amish Wooden Toy. Durable, sturdy and built to last. It is natural, unfinished. No need to paint or stain, just enjoy as it is made. No Assembly Required.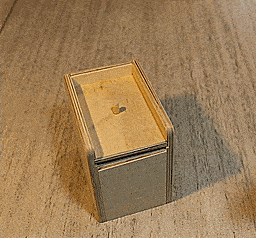 The Scare Box is Hilarious!
Perfect for you, or any practical joker you know. Kids, parents, grandparents, bosses, employees. It is absolutely hilarious to watch people open the scare box, knowing what is about to happen!

Perfect for Parties or Anytime!
Each scare box is made with love and care, knowing that each one is destined for a life of laughter, startles, and harmless fun!

Easy to Use!
Just hand the box to someone and they will naturally want to slide the top open to see what is inside. When they do, out jumps a creepy wiggly rubber creature! Or, place the Scare Box on a counter or side table and let people discover it on their own. Maybe even set up your video camera to capture the moment!

Scare Boxes Make Great Gifts!
Fun, inexpensive, and unique! Let the chuckles, snorts, giggles, and laughs begin!